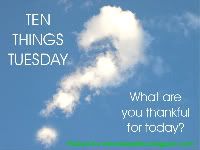 1. I am so thankful for my amazing husband. So glad God didn't give me what I deserve. He is cool and smart and forgiving and kind and fun and funny and he works so hard! I respect him immensely.
2. I am thankful that Riley has braces! This affords us four hours in the car alone driving to the orthodontist every six weeks. It is such a blessing to me to have that time with her! We also eat out and do a little shopping! (The above mentioned amazing husband works at home on this day and watches the other four.)
3. I am so thankful it is starting to warm up. Jay and Charlie played outside without a coat today.
4. I am thankful for the men and women who leave their families to protect and serve our country!
5. I am thankful for my group of women with whom I get to study the Bible.
6. I am thankful for the AWANA program at our church and the spiritual growth I've seen in my children. Tomorrow is the last night and I'm thankful for that, too!
7. I am thankful for bath time because...tonight Hallie and Bailee were discussing heaven and how they think we won't pee or poo in heaven and there won't be toilets to clean in heaven and that there will be cleaning angels to help us keep heaven looking nice!
8. I am thankful for Metabolic-Frolic Mango Tea.
9. I am thankful for last Wednesday night's American Idol episode. I had to stay home from church with a sick kiddo and watched TV. I was never so glad I watched TV! Jesus was all over the place. Dolly Pardon sang "Jesus and Gravity" and the Clark Brothers sang "This Little Light of Mine" and said Jesus' Name in it! It was so spiritually encouraging! I loved knowing all those people were hearing HIM get due praise!
10. I am thankful for sleeping children.