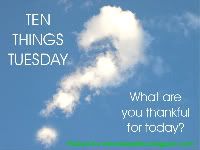 1. I planted some tulip bulbs last fall and I am thankful they are starting to bloom!
2. I am thankful we have wild asparagus growing on our property and we gathered it and ate our first batch on Mother's Day.
3. I am thankful for my homemade Mother's Day cards... "You're as young as you look!"
4. I am thankful the sun is shining today and everything is turning my favorite color.
5. I am thankful there was a lonely, left-over piece of chocolate cake this morning when I woke up. BREAKFAST!
6. I am thankful for Brady and Jean Ann (his mom) letting me get away for a couple of days. Now, I'm just two-pages away from finishing Charlie's babybook!
7. Spring Soccer is over. I am thankful the girls LOVED playing and the boys played outside while we watched the games. I'm also thankful we're not running around looking for soccer shirts and shin guards, too.
8. I am thankful for medicine and Doctors (especially my Doctor, he made blueberry pancakes, bacon and fried eggs on Mother's Day).
9. I am thankful for Jesus, He is my daily strength.
10. I am thankful for the hope and promise of Heaven.
If you'd like to look at other thankful lists or make your own see
here
.